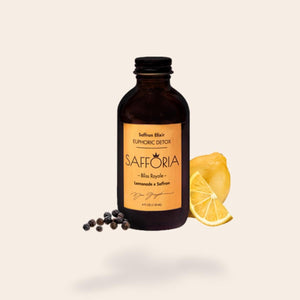 Free Shipping Over $50

Money Back Guarantee

Easy Returns

Secure Checkout
+

Suggested Use

For Euphoric effects please drink at least 1 bottle.
Do not exceed 6 bottles per day.
Pour it on ice or Refrigerate and Enjoy!.
Must Refrigerate after opening to preserve freshness
To ensure functional benefits drink within 3 days after opening

+

Ingredients

Filtered Water, Passion Fruit Juice Concentrate, Pear Juice Concentrate, Erythritol, Fine Grade Saffron, Ginger Extract, Black Pepper Extract

+

Additional Information

This product is made from all natural and healthy ingredients.

NO PRESERVATIVES
GLUTEN FREE
ALL NATURAL
100% VEGAN
Contains 30 Calories
Key Benefits

Enhance Mood & Energy
Increases serotinin

Focus
Increases dopamine

Detox
Increases Glutathione

Helps Digestion
Lowers Stomach Acid
True Mood Booster
Truly has boosted my mood and overall well being!
Saffron University & Clinical Studies
Used for thousands of years in Ayurvedic and Chinese medicine and renowned throughout ancient Persia and Greece, saffron is a spice worth noting in our modern world. This ancient spice is packed with tons of antioxidants and nutrients that are notable for lifting mood, enhancing cognition, and boosting energy.
Ancient Roots Backed By Modern Research
Scientific studies on saffron have shown that consumption of saffron (30 mg/day) for six weeks was shown to be as effective as prozac (40 mg/day) in improving depression symptoms in patients suffering from major depressive disorder.


Founder's Story
My story started with watching my grandmother battle depression and my hope to seek a cure.
After years in the making, time and love, I am so excited to finally introduce SAFFORIA Saffron Elixirs, the first line of products to be launched with SAFFORIA. Saffron is not only a staple in my Persian upbringing, but an ancient botanical that has been used for centuries for its mood lifting properties.
It is with the fullest heart and sincerest gratitude to introduce the first ever saffron based elixir to uplift the spirit, stimulate the mind & detox the body.
With lots of love and plenty of spice.
Yass Grayeli
Still confused ? Here are some
Frequently Asked Questions
+

Why is Saffron so expensive?

Saffron is the three, dried red stigmas of the Crocus sativus flower. Saffron is worth more than gold by weight and has been prized throughout the ages for its beneficial attributes and healing qualities.

+

How are you able to sell Safforia for such a reasonable price?

Having a close source to distribution has given us leverage to provide this pricey spice in an affordable, ready-to-drink elixir.

+

What is the shelf life of Safforia?

SAFFORIA elixirs have a shelf life of 2 years.

+

How should you store Safforia?

Store in a cool dry place. Once opened, please refrigerate. We recommend consuming within 3-5 days after opening to take advantage of the full effects.

+

What health precautions should I take before consuming Safforia?

Please consult your heathcare provider prior to use if you are pregnant or nursing, taking any medication or if you have a medical condition.

+

Is Safforia Gluten-free, All-natural, preservative-free, and Vegan?

Yes. SAFFORIA is gluten-free, all-natural, preservative-free and vegan.

+

Is Safforia recommended for low-carb, low-sugar, low-calorie diets?

Yes. SAFFORIA safely enhances healthy lifestyles and contains 30 calories, 6 grams of natural sugars, and 0 grams of fat. No additional sugars or synthetic fillers are ever added.

+

Is it going to stain my teeth?

Similar to coffee, wine, tea, and other highly-pigmented beverages, saffron has the ability to stain teeth overtime.